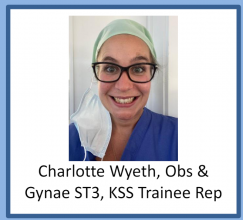 *** Calling all trainees ***
A new trainee engagement forum has been established with the aim to help ensure quality of education and training in KSS.
We want to hear from you regarding any training issues and ideas of how to make the best of our training opportunities.
Our forum is supported by the PGME Senior Team for the KSS local office, who are keen to hear from you and help to support and instigate positive change.
This is a fantastic opportunity to be an advocate for fellow trainees and influence the future delivery of training throughout the Deanery footprint.
Please contact Charlotte on charlotte.wyeth@nhs.net or the KSS TEF team on ksstefteam@gmail.com if you are interested or require further information.
Meeting Dates & Joining Links
Terms of Reference
Minutes