Out of Programme (OOP)
There are limitless opportunities for out-of-programme experience, either for research or for additional clinical experience. These can be for a year (or occasionally two), but require careful forward planning and need to fit in with the service needs of the region.
Subject to the formal agreement of the Dean, Specialty surgical registrars (StRs) and Specialist surgical registrars (SpRs) may take time out from structured training whilst retaining a National Training Number (NTN). Trainees will need to get formal approval from the Postgraduate Dean and discuss their plans with their Training Programme Director (TPD) and Educational Supervisor.
Periods out of programme may count towards the award of a Certificate of Completion of Training (CCT) – this should be discussed with the Specialty Training Committee (STC) Chair and the relevant college.
HEE recognises that trainees may wish to take a period of time Out of Programme (OOP) for one of a number of reasons. These can be categorised as follows:
Time out of programme for approved clinical training in a post which already has prospective approval from the GMC (Out Of Programme Training – OOPT)
Time out of programme for clinical experience in a post which will not count towards the award of a CCT (Out Of Programme Experience – OOPE)
Time out of programme for research (Out Of Programme Research – OOPR )
Time out of programme for career breaks (Out Of Programme Career – OOPC)
Full details of out of programme guidance can be found in sections 6.75 to 6.96 of the 'Gold Guide' 2014. This can be downloaded from the COPMeD website.
OOP Application Process
Please see this online form and guidance for Out of Programme activity.
Alison Montogomery, Gaining independence in gynaecological and early pregnancy ultrasound-my OOPE to OOPR experience
During my ST4 year I decided I wanted to solely focus on scanning as an OOPE. The process requires a lot of planning. I had to give KSS six months' notice, but most jobs were only advertised less than six months before starting so I needed permission for OOP before having a job! I had to research positions and their recruitment dates but KSS were very supportive when I did get a job, enabling me to start promptly.
My OOPE was at St. George's in London and it enabled me to carry out more than 3,000 ultrasounds in 18 months. I completed my intermediate ultrasound modules, a postgraduate certificate in scanning and converted my OOPE into an OOPR. I am currently writing up my MD and have learnt a lot about research which has enabled me to develop further projects.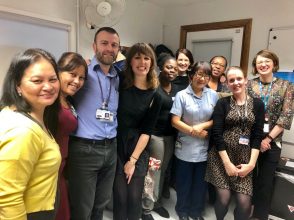 Weiyu Zhang, My out of programme research experience in fetal medicine
I took my OOPR between ST5 and ST6 and thoroughly enjoyed my two-year experience in fetal medicine at Medway Hospital. My OOP gave me the opportunity to acquire skills in advanced obstetric scanning and I also gained valuable clinical skills such as performing cerclage. I was heavily involved in setting up research projects and managing large databases as well as statistical analysis. I also had great opportunities to work with fetal medicine specialists, fetal cardiologists and maternal physicians in high risk pregnancy clinics.
I had an amazing experience and would highly recommend taking an OOPR if you have a keen interest in research and would like to pursue a higher academic degree. I would definitely recommend completing your membership exams prior to applying for OOP, this enabled me to focus on my research project during my time out of programme.
April 2022 OOP Application Deadline
The deadline for applicants wishing to take time Out of Programme from Wednesday 6th April 2022is 30th November 2021.
THE DEADLINE ALSO APPLIES TO THOSE WISHING TO EXTEND THEIR CURRENT OOP. ANY APPLICATIONS RECEIVED AFTER THIS DATE WILL NOT BE APPROVED.
Please note that OOP application form must be submittedto the Healthcare Education Team via our online form. This in turn will help to minimise the likelihood of an application being returned as incomplete or rejected.
The application should be accompanied by:
CV
Full Job Description on headed paper
Timetable of daily or weekly activity – for OOPR applications the timetable must reflect at least 80% research time
Proof/Confirmation that OOPR of 3 years will lead to registration of higher degree (MD or PhD)
For OOPR – Ethical Approval and funding should be sought and evidence provided
Offer Letter or Application Form
If you are applying for an extension to your existing OOP please submit a fresh OOP application form, reason for extension, progress report on OOPE and Job description even if the job has not changed since your last application.
If you are applying for a job which is due to be advertised after the OOP closing date, provide a copy of a previous Job Description so the panel have an idea of the post you are applying for.
Without the above accompanying documentation, the panel may not be in a position to approve the OOP.
Read the guidance attached and FAQ before you start completing the application. Any questions should be directed to the PGMDE portal.
It is advisable to discuss your OOP application with your TPD.
******BE ADVISED THAT IF YOU ARE ACF AND DECIDE TO GO ON OOP, YOUR FUNDING AND POST WILL BE WITHDRAWN BY NIHR. CAREFUL CONSIDERATION SHOULD BE GIVEN WHEN APPLYING FOR OOP AND DISCUSSIONS HELD WITH NIHR AND YOUR TPD*******
Trainees can only go out off programme once during their training whether they choose that this is for OOPT, OOPE or OOPR. (OOPC is classed differently)
If the OOP is counting towards training, please seek prospective approval from the RCOG. We shall seek final approval from the GMC once we are in receipt of the RCOG approval. This process MUST be completed before commencement of the OOP.
Please see the list of approved sites on the GMC website which should be useful for OOPT and OOPR applications in other parts of the country: http://www.gmc-uk.org/education/28373.asp
Applications should be discussed with the TPD and if the start date is earlier than the rotation date, this must be agreed with your current Trust. Applications are now to be submitted via the PGMDE Support Portal: https://lasepgmdesupport.hee.nhs.uk/support/home
APPLICATIONS RECEIVED AFTER THE DEADLINE DATE WILL NOT BE ACCEPTED OR PRESENTED TO THE OOP PANEL.
Trainees in their last year of Training (started ST7) or at ST1 Level as of 6th Oct 2021 are not allowed to go on OOP
With kind regards,
KSS Obstetrics and Gynaecology Team
Health Education England
Stewart House, 32 Russell Square, London, WC1B 5DN
KSS HEE Website: https://kss.hee.nhs.uk/
HEE is part of the NHS, and we work with partners to plan, recruit, educate and train the health workforce