About
The KSS General Internal Medicine training programme runs alongside specialty training. It is designed for trainees who are dually accrediting in Internal Medicine plus specialty to become consultant physicians of the future.
Prof Nik Patel, Head of School, leads the programme together with Training Programme Directors, Drs Ursula Davies and Sam Panthakalam. To find out more about their roles visit the Meet the Team webpage.
Registrars usually spend three years in GIM with a regular commitment to acute unselected medical take, including leading the on-call team and managing general medical inpatients. The broad experience gained ensures all General Internal Medicine Curriculum requirements are fully met, and leadership, management and teaching skills are developed.
Where do trainees train?
KSS registrars gain valuable experience in the management of a wide variety of medical presentations at a selection of the following hospitals:
Kent

William Harvey Hospital, Ashford – East Kent Hospitals University Foundation Trust

Queen Elizabeth and Queen Mother Hospital, Margate – East Kent Hospitals University Foundation Trust

Kent and Canterbury Hospital, Canterbury – East Kent Hospitals University Foundation Trust

Maidstone Hospital, Maidstone – Maidstone and Tunbridge Wells NHS Trust

Tunbridge Wells Hospital, Pembury – Maidstone and Tunbridge Wells NHS Trust

Medway Maritime Hospital, Medway – Medway NHS Foundation Trust
Surrey

Ashford and St Peter's Hospital – Ashford and St. Peter's Hospitals NHS Foundation Trust

Royal Surrey County Hospital, Guildford – Royal Surrey NHS Foundation Trust

East Surrey Hospital, Redhill – Surrey and Sussex Healthcare NHS Trust
Sussex

Royal Sussex County Hospital, Brighton – Brighton and Sussex University Hospitals NHS Trust​​

Princess Royal Hospital, Haywards Heath – Brighton and Sussex University Hospitals NHS Trust​​

Worthing Hospital, Worthing – Western Sussex Hospitals NHS Foundation Trust

St Richard's Hospital, Chichester – Western Sussex Hospitals NHS Foundation Trust

Eastbourne District General Hospital, Eastbourne – East Sussex Healthcare NHS Foundation Trust
To find out more about each training location, please visit the Local Education Provider webpage.
GIM trainees experience
Dr Sabreen Ali, KSS Specialist Registrar Rheumatology and General Internal Medicine (2017- )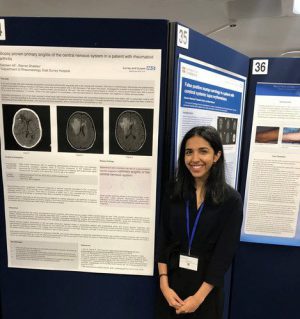 My GIM experience at KSS has been of an excellent standard, despite the inevitable challenges faced by a medical registrar.
I have grown in ability and confidence during my time here. Clinical case exposure has been diverse and interesting, backed up by readily available and engaged consultant input.
There is great emphasis on education within the Deanery, and formative feedback on clinical and leadership aspects of case management is consistent. I have had no difficulties in obtaining portfolio competencies, and opportunities for procedural skills have been plentiful. I've always felt valued as a colleague and a person, and I would highly recommend the training programme!
Fang En Sin, RCP Chief Registrar (2018-2019); KSS Specialist Registrar Rheumatology and General Internal Medicine (2014-2019)
I have recently completed my training in General Internal Medicine and Rheumatology in KSS. Over the course of my training, I rotated through a range of city, countryside and coastal district general hospitals, as well as tertiary teaching hospitals in Brighton and London.
The breadth and variety of experiences of training in the scheme – working with different MDTs, managing a wide range of disease presentations and communicating with a diverse patient population – was stimulating and rewarding. The regional training days, annual procedures training day and the unique annual Internal Medicine Research and Development Day have been invaluable supplements to my clinical training.
One commonality amongst all the hospitals I have rotated through was the incredible clinical and interpersonal support I have always received from my peers, my supervisors and consultant colleagues. In addition to clinical competencies, I was always encouraged and supported to develop additional interests such as research, education, quality improvement and leadership skills.
I have thoroughly enjoyed my GIM training within KSS. I believe KSS offers a supportive and well-rounded training programme that has equipped me with the clinical and non-clinical knowledge and skills to be a consultant.
Teaching and learning
MSc in Internal Medicine
KSS registrars have a unique opportunity to gain a postgraduate qualification in Internal Medicine during their training. Dr Ursula Davies and Prof Kevin Davies, Chair of Medicine at Brighton and Sussex Medical School, lead the Masters course in Internal Medicine.
To achieve the award of Masters, students will complete a choice of six clinical and professional modules over three years and submit a dissertation. Other trainees may choose to undertake three modules to gain a Postgraduate Certificate in Internal Medicine, or six modules for a Postgraduate Diploma. Bursaries for KSS trainees are available upon successful application.
Clinical modules:
Intensive medicine
Auto-immunity
Infectious diseases
Frailty and elderly medicine
Professional modules:
Research methods and critical appraisal
Leadership and change management in clinical services
Communication, learning and teaching in health and social care
To find out more, visit the BSMS website.
Simulation
KSS has a longstanding positive track record providing procedural skills and simulation training days. More recently a Deanery-wide medical simulation faculty has been developed with the aim of widening access to such courses to trainees across the whole region.
Dr Maxine Zahra Monefort, Simulation Fellow says:
"There are regular procedural skills and simulation courses, which cover clinical and human factors, with consistently great feedback from those who have attended. These are funded by the deanery and held in a number of different trusts, often for small groups of trainees, with a plan to continue increasing this provision."
Regional Training Days
Dr Sam Panthakalam organises a rolling programme of regional training days for dually accrediting STRs at rotating sites. Topics are strongly linked to the Internal Medicine curriculum with annual Cardiology Masterclass.
Dr Ursula Davies hosts the Internal Medicine Research and Audit Day with Prof Kevin Davies at Brighton each September. This is led by the specialist registrars themselves; they present abstracts on their work in audit, research, management innovation and complex or challenging cases.
Our KSS educational programme is popular with registrars, both for its educational content and for giving them opportunity to socialise and feed back suggestions regarding training via their trainee representatives on the KSS Internal Medicine Specialty Training Committee.
Support
During their training registrars are supported by their consultant educational supervisors, many of whom have trained as educators through the KSS Qualified Educational Supervision programme. The Training Programme Directors co-ordinate the GIM Annual Review of Competency Progression (ARCP) and conduct face to face Penultimate Year Assessment (PYA) with each trainee in preparation for their Certificate of Completion of Training (CCT) in GIM and appointment ​as consultant physicians.