About the KSS AIM training programme
The HEE KSS training programme in Acute Internal Medicine (AIM) is a 5 year programme, leading to dual accreditation in the specialty together with General (Internal) Medicine (GIM). It can also be combined with Intensive Care Medicine (ICM) and Stroke Medicine.
The programme is led by Nik Patel, Head of School, and the Training Programme Directors (TPDs), Nick Smallwood and Roger Duckitt. To find out more about their roles visit the Meet the Team webpage.
The programme is one of the largest in the country and is constantly developing to meet the needs of trainees – as well as rising to the healthcare mandates and changing patient needs. With more Acute Medicine Consultant posts being advertised than any other specialty, now is the time to get involved in this exciting and dynamic specialty.
By choosing to train in Kent, Surrey & Sussex, you will have the opportunity to develop a broad experience in several medical specialities required for your training but also to experience placements in first class acute medical units within the region. The Kent, Surrey and Sussex area is one of the most stunning places in the country to live and work. With the rolling downs, beautiful coastline and easy access to the capital it remains a highly desirable location for doctors in training.
By combining experience in district general hospitals along with teaching hospital posts you can gain the experience and skills required to be an excellent acute physician. As well as your time within AMUs, within your GIM placements you will have the option of being involved in a range of general medical attachments including:
Respiratory Medicine
Cardiology
Geriatric medicine
Diabetes and Endocrinology
Rheumatology
Gastroenterology
Trainees have the opportunity to enhance their Acute Medicine training with the development of special interests and skills which will make them highly sought-after Consultant Acute Physicians. Trainees will be allowed a half day per week to develop their specialist skills during their training years. Hospitals within KSS provide the option of acquiring additional skills in:
Focused Acute Medicine Ultrasound (FAMUS)
Echo (FICE and / or BSE level 1)
Stroke medicine
Simulation training
Medical Education
Research
Medical school teaching and examining
Structured training
KSS trainees have a curriculum-mapped regional training day program which covers all core requirements of the Acute Medicine curriculum. The training programme is hosted with monthly training days at three sites (Maidstone, Brighton and Redhill) on a rotational basis. The aim is to cover the whole curriculum in 2.5 years giving trainees two opportunities to make specific days. The training days are organised and led by the trainees under the guidance of their Educational Supervisors and the support of the Training Programme Director and the School of Medicine. They are designed to ensure that trainees will acquire the specialist knowledge needed to pass the Specialty Certificate Exam (SCE), as well as gaining insight into research opportunities and to enhance management and leadership skills. There are also opportunities to undertake more specialised training days in leadership, simulation and ultrasound training. There is a regional KSS/RCP Acute Medicine medicine meeting once per year which will be an opportunity to present and discuss interesting clinical problems, showcase excellent and innovative practice within the region, and also network with colleagues.
Further Information about the curriculum and programme can be found at http://www.jrcptb.org.uk.
Where do we provide training?
Our posts are organised into 3 geographical sub-rotations, although individual rotations will be mapped to trainees' needs. National Training Numbers (NTNs) will usually be advertised as either the East, West or South Coast rotation, with exact hospital placements and overall rotation through the programme being confirmed with the trainee by the Training Programme Directors. The structure of the programme and the placements are reviewed and informed by trainee feedback, ensuring that the programme responds to the needs of trainees.
The tables below highlights the locations of rotations and specialties available (correct as October 2019):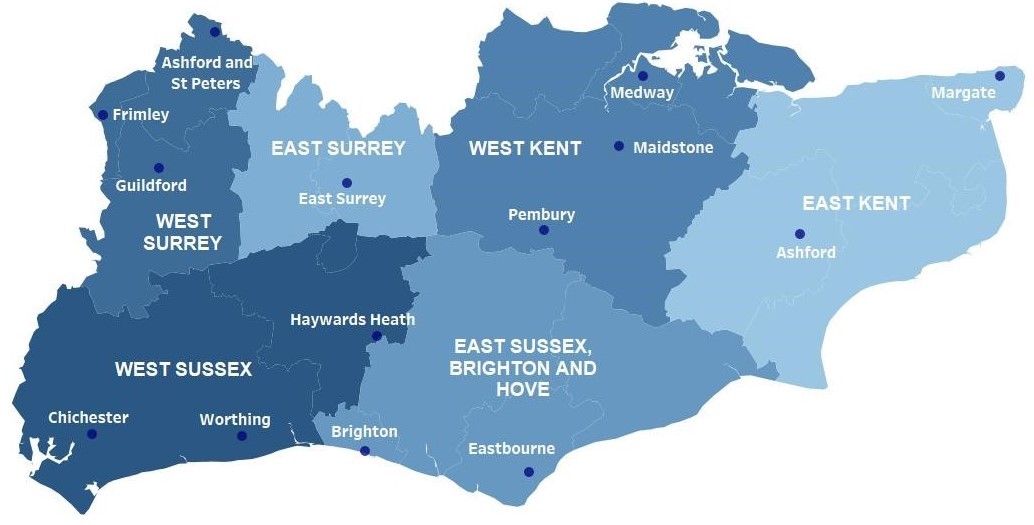 Broadly speaking, the rotations are split as below:
Kent (East)

Maidstone Hospital, Maidstone – Maidstone and Tunbridge Wells NHS Trust

Medway Maritime Hospital, Medway – Medway NHS Foundation Trust

Tunbridge Wells Hospital, Pembury – Maidstone and Tunbridge Wells NHS Trust

William Harvey Hospital, Ashford – East Kent Hospitals University Foundation Trust

Queen Elizabeth and Queen Mother Hospital, Margate – East Kent Hospitals University Foundation Trust
Surrey and Frimley (West)

Ashford and St Peter's Hospital, Chertsey – Ashford and St. Peter's Hospitals NHS Foundation Trust

Frimley Park Hospital, Frimley – Frimley Health NHS Foundation Trust

Royal Surrey County Hospital, Guildford – Royal Surrey NHS Foundation Trust

East Surrey Hospital, Redhill – Surrey and Sussex Healthcare NHS Trust
Sussex (South)

Eastbourne District General Hospital, Eastbourne – East Sussex Healthcare NHS Foundation Trust

Royal Sussex County Hospital, Brighton – Brighton and Sussex University Hospitals NHS Trust

Princess Royal Hospital, Haywards Heath – Brighton and Sussex University Hospitals NHS Trust

Worthing Hospital, Worthing – Western Sussex Hospitals NHS Foundation Trust

St Richard's Hospital, Chichester – Western Sussex Hospitals NHS Foundation Trust
To find out more about each training location, please visit the Local Education Provider webpage.
Within this framework, we aim where possible for rotations to be family-friendly, and to minimise the need for travel or relocation during the programme. Typically, you can expect to spend all 5 years of your training within your geographical region. The final year (ST7) is an opportunity to consolidate your training with a view towards planning your post-CCT career, and we will aim to place trainees in a centre that is best placed to meet these needs.
The below example demonstrates a typical South Coast rotation: –
AIM rotation example
ST3 Worthing (AMU / Geriatrics) —-> ST4 Chichester (Cardiology / AMU) —-> ST5 Brighton (ITU / Resp) —-> ST6 Haywards Heath (Resp / Geriatrics) —-> ST7 Brighton (AMU)
You will be invited to give your preferences for placements at recruitment and at the annual interim review, but the TPDs will need to ensure above all that placements meet your individual training needs while at the same time maintaining overall programme balance.
Training Pathway
To understand how the training pathway for acute medicine (and all other physicianly programmes) is structured please visit the training pathway webpage.
Other opportunities
There are opportunities for out-of-programme research experience within KSS and opportunities to develop specialist skills. Examples are Masters courses, stroke fellowships, obstetric medicine training posts, point of care ultrasound (FAMUS), diploma in infectious diseases, medical education fellowships and simulation training. We have close links with the BSMS medical school and we encourage our trainees to take up research opportunities where possible.
Specialist Trainees are encouraged to attend national meetings including the Society of Acute Medicine annual conference.
AIM curriculum
The Acute Internal Medicine curriculum in conjunction with the General Internal Medicine curriculum provides a comprehensive outline of requirements and allows trainees to achieve CCTs in Acute Internal Medicine and General Internal Medicine.
The curriculum is integral to the e-Portfolio and all the assessment requirements are mapped against it. All competences must be supported by evidence of your learning, and your Educational or Clinical Supervisor must review and sign off each of these competencies via e-Portfolio.
It is essential that Acute Internal Medicine trainees and their trainers understand this curriculum, as the whole programme is based on it.
The 'Acute Internal Medicine ARCP Decision Aid ' and the 'GIM ARCP Decision Aid' gives a summary of what is required of Acute Internal Medicine trainees during each training year. This must be completed in order for a satisfactory outcome to be issued.
Important links/documents:
KSS Trainee handbook
AIM curriculum
AIM ARCP decision aid
GIM ARCP decision aid
Gold Guide (overall guide to specialty training)
Gold Guide 8th Edition March 2020
Study leave FAQs (including course lists and how to apply)
SuppoRTT (support for those returning to training from a break)
Professional Support Unit (support for any trainee who needs it – self referral)