Overview
Watch our short video about AHP Return to Practice
If you are a Paramedic that has taken a career break and are now looking to return to your career, we are pleased to be able to offer a programme of support to help you return to your career!
In a collaboration between HEE, the region's three ambulance services:
South Central Ambulance Service NHS Foundation Trust
South East Cost Ambulance Service NHS Foundation Trust
Isle of Wight Ambulance Service
and the University of Cumbria along with other health system partners we have developed a programme of learning that can be tailored to your needs both educationally and personally in order for you to meet the HCPC requirements to return to the register.
Eligibility criteria
All former HCPC registrants who live in England and plan to return to work in England once returned to the Health and Care Professions Council (HCPC) register.
Those who have gained a UK HCPC approved programme and have never been registered and never practised.
Registrants who remained on the HCPC register for more than two years but have not practised and consider themselves to be out of practice.
The programme IS NOT open to:
Returnees looking to work outside England when they have returned to the register
Returnees that have any fitness/condition to practice issues cited against them by the HCPC
Updating your skills
The HCPC defines a returnee to practice as an individual that has been out of practice for more than two years. This applies to you if your registration has lapsed, or if you did not go on to register once finishing your qualifications, and therefore have not practised.
HCPC recommends these minimum requirements to update your skills:
0-2 years out of your profession – no requirements
2-5 years out of your profession – 30 days of updating your skills and knowledge
5 years or over out of your profession – 60 days of updating your skills and knowledge.
Routes to return to practice as a paramedic
We are able to support both a paid and unpaid/voluntary route to return to practice to meet your needs and aspirations.
The paid route is able to support those who wish to return to a role in the ambulance service such as a frontline paramedic or a control room clinician role such as 111 or a clinical support desk.
The unpaid route is for those who have not yet decided where they wish to work or are employed by another NHS provider (e.g. primary care or an acute trust) who are supporting your return to practice or want increased flexibility whilst returning.
Supporting your study and financing
We will support and arrange practice placements in relevant clinical areas to support your learning.
We have also developed a Return to Practice module with the University of Cumbria to meet the needs of a returning paramedic. It will be delivered through a mix of online learning and tutorials and practical face-to-face learning at their centres across the South East. It will also enhance your future career through the attainment of 20 credits at level 6 (Degree level), don't worry if you've never studied at this level before as there is plenty of learning support available through the university.
You will also have access to the national funding for returnees of £800 available to you support your out of pocket expenses. If you decide to undertake supervised practice as part of your return then eligible organisations can claim £500 for supporting you too. More information can be found in this finance document.
The process to return
Initially we need you to express your interest through the link below where we will send you a link to a job application for the relevant ambulance trust for where you are located, this is for both paid and unpaid routes to allow us to get the relevant HR elements done such as DBS checks and occupational health assessments for placements.
You will be invited to an interview with the Regional RtP lead and others relevant to the route and clinical practice area you are interested in working in.
We will then undertake an Individual Training Needs Analysis to identify your learning needs and develop a plan for your learning and identify suitable clinical placements for your needs.
You will then be able to complete your updating period and once complete return to the HCPC register.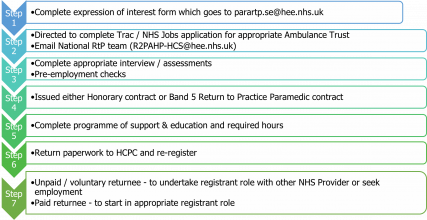 For more information about AHP Return to Practice please look at the National RtP website: Return to Practice: allied health professionals, healthcare scientists and practising psychologists | Health Education England (hee.nhs.uk)
Register for one of our upcoming webinars: January 18 or January 31
Or you can also complete an Expression of Interest form here or via the QR Code below.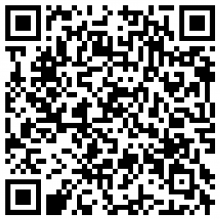 For more information or enquiries about this programme please contact: parartp.se@hee.nhs.uk