On this page you will be introduced to the leadership team behind the KSS School of Anaesthetics Intensive Care Programme. If you would like to contact the team below or the Anaesthetics and Intensive Care Medicine Workforce Specialty Team, please visit the London and KSS Support Portal here.
Dr Mark Way, Head of School for KSS Anaesthetics & Intensive Care Medicine
I am the KSS/LaSE Anaesthetics and ICM Head of School since July 2022. Prior to HoS I was Higher TPD for Kent and Surrey since 2017 and College Tutor at Royal Surrey County Hospital, Guildford from 2012 to 2017.
I graduated from University of Leicester Medical school in 1998, and underwent core anaesthetic training in the Leicestershire Deanery. I ventured into neonatology and general paediatrics on the South coast before re-joining Anaesthesia as a specialist Registrar in the Wessex Deanery. Whilst training in Wessex, I read for a Certificate and Diploma in Medical Education at the University of Winchester, before being appointed to a substantive consultant post at Royal Surrey County Hospital, Guildford in 2008. I have now worked in 15 UK NHS hospitals.
As a consultant anaesthetist in Guildford, I have held the roles of Obstetric Anaesthesia Lead, Trust Leadership Champion and College Tutor, Higher TPD for KSS North, before taking on my current post of HoS for KSS Anaesthesia and ICM. My clinical interests are: obstetrics, head and neck cancer, regional anaesthesia, general and urological cancer, upper and lower limb orthopaedics and revision hip surgery.
Outside of medicine, I swim, I am a keen on and off-road cyclist, as well as a taxi service and annoying dad to two secondary school kids.
Dr Debkumar (Deb) Pandit, Training Programme Director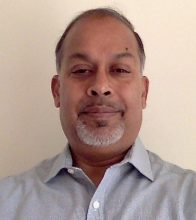 I am a consultant in ICM & Anaesthesia at East Kent Hospitals University Foundation Trust, based at William Harvey Hospital, Ashford. I have held this post since 2005. I am also in the post of KSS ICM Training Programme Director, which I have held since 2016, having been intimately involved in the delivery of the KSS ICM programme as an educational supervisor and faculty tutor since the inception of the new ICM curriculum in 2010.
I am highly conscious of the challenges that ICM trainees face within the vast geographical domain of the KSS region. Working closely with faculty tutors, the Regional Advisor for ICM and the Head of School, I endeavour to mitigate these challenges as much as possible and strike the right balance between service delivery and professional development needs.
I find the dedication and resolve of ICM trainees to overcome the challenges of their professional and personal lives to become trained Intensivists very uplifting. This gives me enormous drive to ensure delivery of an effective and high quality training programme to fulfil their passion and professional ambition, while being mindful of their individual need.
I can be contacted via dpandit@nhs.net.