Join the new South East First Contact Practitioner Forum and launch webinar
Health Education England are working in partnership with First Contact Practitioners to create a new forum for First Contact Practitioners in primary care across the south east region.
This forum will be multi-professional and aimed at anyone involved in the first contact practitioner pathway, including first contact practitioners, educators, supervisors, service leads, or aspiring first contact practitioners.
The forum will aim to:
Offer peer support
Share knowledge, good practice, resources, and approaches within the first contact practitioner pathway
Provide professional development and learning opportunities
Connect with systems, primary care training hubs, HEE Fellows and the developing faculties in advancing practice and allied health professions
Build a culture of engagement and a consistency of approach
Build a wider community of practice to support those who are interested in becoming First Contact Practitioners.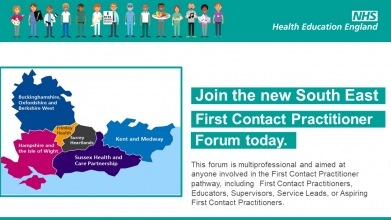 To join the forum and attend our virtual launch event on Tuesday 12 January at 18:30, please complete this South East FCP Forum registration survey. Confirmation emails and virtual meeting invites will be sent early January, so please save the date.

Please contact Rebecca Tyrrell or Sylvia Wojciechowski, south east First Contact Practitioner forum leads, if you would like more information about the forum or launch event.