Head of School of Surgery for KSS
We are delighted to confirm that Miss Ginny Bowbrick (pictured right) has been appointed as the Head of School of Surgery for KSS and will start in post in early January 2021. She will be succeeding the previous Head of School, Professor Humphrey Scott, who has been appointed as Dean of the Royal Society of Medicine.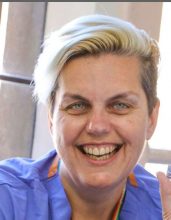 Ginny has been a consultant vascular surgeon at Medway NHS Foundation Trust since 2005, having trained at St Bartholomew's Hospital London and held subsequent training posts in the south east of England. She is the clinical lead for the Professional Passport and Leadership Programme at the Royal College of Surgeons of England, vice chair of the Specialty Advisory Committee for vascular surgery and lead for vascular surgery ST3 national selection. She is also the acting Director of Medical Education at Medway Maritime Hospital having been deputy for the previous four years. 
Speaking on news of her appointment, Ginny said:
"I am very excited to be appointed as Head of School of Surgery in what I consider to be a dynamic deanery with a vast array of fantastic training opportunities. I plan to consolidate the excellence already to be found and create new opportunities in training particularly with modern technologies. I am proud to be taking on the mantle from Professor Humphrey Scott who was the first Head of School for KSS and who was instrumental in giving the School of Surgery its own unique identity after the separation from London".  
Graeme Dewhurst
Regional Postgraduate Dean, HEE South East