On this page you will be introduced to the leadership team behind the KSS School of Paediatrics. If you would like to contact the team below or the Paediatrics Workforce Specialty Team, please visit the London and KSS Support Portal here.
Sarah Birks, KSS Head of School of Paediatrics
TRAS Lead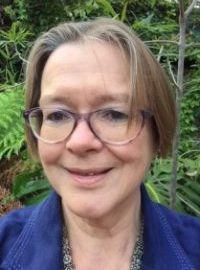 I trained at Cambridge and Guys, qualifying in 1981. I was appointed as a consultant paediatrician in 1996 in East Kent, working in community and acute. My training included time out whilst my children were small, and a period of training less than full time. I have always been passionate about medical education and led the South Thames Training Interest Group for community paediatrics until 2000. In 2010 I gained an MA in clinical education from Brighton University.
I have been a Training Programme Director in the School of Paediatrics at HEE KSS since the start of the programme in 2008, initially with level 1 trainees, and later level 3.  I became Head of School in 2016.  I really enjoy meeting trainees and helping you to achieve your goals. Since becoming Head of School I have helped the trainee committee to develop, and they now play a really important part in developing the school.  My own special interest is in community paediatrics and I am also the HEE KSS community paediatric lead. 
Away from work, I enjoy my family, my dog, my garden and playing the viola.
Dr John Somarib, KSS Paediatric Training Programme Director
GRID Lead
I graduated from University of Ghana Medical School in 1994 and came to UK in 1999 to further my training in Paediatrics. During the course of my training I developed an interest in care for children with complex disabilities, so I undertook a Grid Training in Paediatrics Neurodisability at Bristol Children's Hospital.
During my Grid Training I became interested in medical education and took up a mentor role for medical students doing placements in Paediatrics at Bristol Children's Hospital. I organised and coordinated their training and teaching programme during the 6-week placement and provided feedback to the medical school.
I took up my first consultant post in Paediatrics Neurodisability at St Marys Hospital, Paddington, from January 2010 to September 2010. During that period I participated in medical students' teaching. I took up a post as Consultant Paediatrician in Neurodisabiliy in East Sussex Healthcare NHS trust and Chailey Heritage Clinical services in October 2010, where I remain.
I continued to develop my skills in medical education and completed the Qualified Educational Supervisor Programme Certificate of Education, parts 1 and 2 – organised by the KSS deanery. I took up posts as a RCPCH College Tutor in April 2014 and Training Programme Director in June 2016.
Clinically, I do complex Neurodisability clinic, Posture clinic and Movement/botulinum toxin clinic for children with Spasticity and dystonia
My aim is to support trainees achieve their full potential and to play a role in improving training opportunities in KSS deanery.
Dr Palaniappan Sashikumar MBBS, DCH, FRCPCH, KSS Paediatric Training Programme Director
My medical career started in India and the experience of looking after sick babies and children guided me towards a career in paediatrics. I came to UK in 2002 to pursue a postgraduate training in Paediatrics and had the privilege to have been trained by some of the best Paediatricians from the north east of England and London.
After successfully completing my CCT in 2013, I have been working as a Neonatologist at Medway Maritime hospital. My special interest is in Neonatal Neurology and Neurodevelopment have contributed to HIE related research trials at Medway. I have been teaching NLS and APLS courses across the region over the last 6 years. My other roles include Neonatal Organ Donation lead, MTI Champion and RCPCH Tutor.
I have evolved as a teacher over the years and held supervisor roles for medical students, Foundation trainees and Specialist Paediatric trainees. I am currently pursuing a Masters in Medical Education from Dundee University. I joined the team as the TPD in Feb 2020 with a desire to be involved in training the paediatricians of the future.
Outside medicine, I love playing badminton and spending time with my family.
Dr Ellie Day, KSS Paediatric Training Programme Director (Surrey)
I have been a Consultant General Paediatrician at Ashford and St Peter's Hospital since 2015, having been a trainee in South London/Surrey. I started in General Paediatrics and subsequently developed a post-CCT interest in Diabetes and hope to complete the Diabetes SPIN soon. I am also the Mental Health lead for the department.
I have been College Tutor since 2018 and became TPD at the end of 2019. I will be responsible for the Surrey hospitals and will also be working with Dr Catherine Wynne and the Trainee Committee on developing Team days.
Dr Wynne and I are also planning to look at the allocation process in more detail. Please do not hesitate to get in touch if you need anything or wish to discuss something.
Catherine Wynne, KSS Paediatric Training Programme Director , LFTF Lead, PLEAT & SIM Day Lead