Perinatal Mental Health Simulation project wins award
A Perinatal Mental Health Simulation training project funded by Health Education England in the south east and co-produced with service users has won a coveted award for patient involvement.
A project team at Sussex Partnership NHS Foundation Trust won the Best Patient Involvement award at the recently held Association for Simulated Practice in Healthcare Conference 2020. The project uses actors and real-life settings to train mental health professionals such as midwives, junior doctors, health visitors, who are involved in the care of women with mental health problems, during pregnancy or following delivery.
Dr Jenny Cooke, Consultant Psychiatrist at Brighton and Hove Perinatal Mental Health Service and Clinical Lead for Perinatal Mental Health at Sussex Partnership NHS Foundation Trust, said: "We are really pleased to receive this award for our multi-professional perinatal mental health simulation training course. It is a testament to the hard work of all the team who have ensured that the voices of the women are heard at every stage of course development and delivery."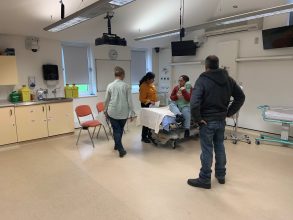 Alex Saunders, Head of Resuscitation and Simulation Services at Brighton and Sussex University Hospitals NHS Trust, said: "We are delighted that the perinatal mental health simulation faculty have received this fantastic award. A significant amount of work goes into developing realistic simulation for our staff to learn the complexities and dynamic of such conditions. This award is recognition for that hard work and determination to give people the level of care they deserve from our teams. As a simulation service we are proud to work with our expert colleagues to provide this education to improve and deliver quality care."
The training is based on HEE's competency framework for perinatal mental health which aims to build perinatal mental health capability in the workforce. It also increases confidence and understanding among non-specialist health professionals on several domains aligned with the competency framework.
People who have undergone the training fed back how the scenarios highly resemble real-life clinical encounters. The team won the award after submitting a poster evaluating their work.
Developing perinatal mental health service and co-production with people with lived experience of services is a core principle of NHS England's Long Term Plan for Mental Health.
Susan, a Service User Consultant and Peer Support Worker for a crisis team at Sussex Partnership NHS Foundation Trust, said: "It has been such a fantastic service user consultant project to have been involved in. The consultant psychiatrists are very down to earth and are always eager to incorporate our opinions and thoughts during the process of developing patient scenarios that staff could learn from.
"During the training sessions I have always felt very valued and respected. It has been a great opportunity to describe to a range of multi-disciplinary staff what the experience of puerperal psychosis feels like as it is a quite rare mental health condition."
Dr Richard Kerslake, Psychiatry Higher Trainee and Brighton and & Sussex Medical School Simulation Fellow, said: "We have been told that the patient representative group at this conference were determined that our co-production model should be recognised. We feel that there is no better recognition than that of the patients. We want to thank the service user consultants for their contributions, alongside all the stakeholders who have been involved in the development of this training."
The training continues to be delivered in line with COVID safe protocols with the support on Brighton and Sussex University Hospitals Simulation team throughout 2021 and 2022. To find out more about this training, visit https://www.bsuhsim.org/pnmh/ or contact bsuh.sim@nhs.net.